Black Press to Purchase King County Journal Newspapers
Back to News
---
SEATTLE, WA, NOVEMBER 27, 2006 – Black Press has agreed to purchase King County Journal Newspapers from Horvitz Newspapers, Peter Horvitz, president of Horvitz Newspapers Inc., and David Black, president of Black Press Ltd., announced. The sale is expected to close on Thursday, November 30th. Terms of the transaction were not disclosed.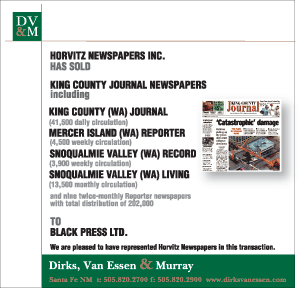 King County Journal Newspapers publishes the 41,500-circulation daily King County Journal, the weekly Mercer Island Reporter and Snoqualmie Valley Record, the monthly Snoqualmie Valley Living and nine community newspapers published twice a month: the Auburn Reporter, Bellevue Reporter, Bothell Reporter, Covington Reporter, Kenmore Reporter, Kent Reporter, Maple Valley Reporter, Redmond Reporter and Renton Reporter. Combined circulation of the non-daily publications is 223,900.
Dirks, Van Essen & Murray, a newspaper merger-and-acquisition firm based in Santa Fe, New Mexico, represented Horvitz in the transaction.
Black Press Ltd. is the owner of more than 100 community publications and 17 printing operations throughout western Canada and the United States. Its Sound Publishing group publishes community newspapers on the Kitsap Peninsula, Whidbey Island, San Juan Islands, Vashon-Maury Island, and in Federal Way. It also publishes the Honolulu (HI) Star-Bulletin and recently completed acquisition of the Akron (OH) Beacon Journal.
Horvitz Newspapers also owns the Peninsula Daily News in Port Angeles, Washington, and The Daily Times in Maryville, Tennessee.