BlueLine Media Holdings Acquires Shawano (WI) Shopper
Back to News
---
NEENAH, WI, APRIL 10, 2007 – BlueLine Media Holdings, LLC, based in Neenah, Wisconsin, today announced the acquisition of the Shawano (WI) Shopper, from the estate of the late David Early, Jr. Terms of the transaction were not disclosed.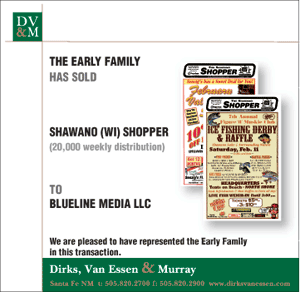 Dirks, Van Essen & Murray, a newspaper merger-and-acquisition firm based in Santa Fe, New Mexico, represented the Early family in the transaction.
The Shawano Shopper has total distribution of 22,000 copies throughout Shawano County with limited circulation in neighboring counties in northeast Wisconsin.
James Early, personal representative of the David Early, Jr. estate, said, "The Shawano Shopper has demonstrated its commitment to the readers and advertisers in Shawano for nearly 50 years. We are confident the Shawano Shopper will continue this tradition under the fine leadership of Wolf River Media."
BlueLine Media Holdings owns and operates The Shawano (WI) Leader, a 6,300 paid six-day daily, in addition to four other newspapers and a commercial printing operation. The company is owned by Paul Seveska, Greg Mellis and Fulcrum Publishing, LLC, a subsidiary of McCarthy Group, Inc., a private equity firm based in Omaha, Nebraska