Boone Newspapers Inc. Affiliate Purchases the Bainbridge (GA) Post-Searchlight
Back to News
---
BAINBRIDGE, GA, June 2, 2008 – Bainbridge Media LLC, an affiliate of Boone Newspapers Inc. of Tuscaloosa, Ala., and Natchez, Miss., has purchased The Bainbridge (GA) Post-Searchlight. Terms of the transaction were not disclosed.
Dirks, Van Essen & Murray, a newspaper merger-and-acquisition firm based in Santa Fe, New Mexico, represented the family owners of The Post-Searchlight in the transaction.
Boone Newspapers is owned principally by James B. "Jim" Boone of Tuscaloosa, who also serves as chairman of the board. Todd Carpenter of Natchez is president. The company publishes 29 daily and weekly newspapers in Alabama, Mississippi, North Carolina, Virginia, Ohio, Michigan and Minnesota.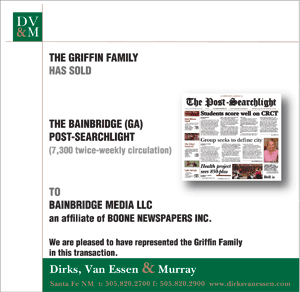 The 7,300-circulation Post-Searchlight is the company's 30th newspaper, extending its operation to Georgia.
Bainbridge Media bought the 101-year-old semi-weekly newspaper and printing company from Sam and Mary Ann Griffin, who have been involved in the operation since 1963. "It was our goal to find new owners who not only have the experience, resources and know-how necessary to take this newspaper forward into this community's exciting future, but who also share the same commitments to the community and sense of responsibility to the past that we do," said Sam Griffin. "We are delighted that Jim Boone and Todd Carpenter see in The Post-Searchlight, Bainbridge and Decatur County the same qualities and values that we do, and we are confident that The Post-Searchlight, its readers, advertisers, employees and the community will continue to grow and mature to its fullest potential in their care."
"Todd and I are deeply appreciative of the confidence Sam and Mary Ann Griffin place in us as their successors, and we will work hard to merit that," said Jim Boone.
The Post-Searchlight has been in the Griffin family since it was founded by E.H. "Pat" Griffin in 1907 as The Bainbridge Post. In 1915 Griffin bought The Searchlight, founded in 1898 by Russell Brinson, and combined the two newspapers into The Post-Searchlight.