Community Media Group, Inc. Purchases Monticello (IN) Newspapers
Back to News
---
MONTICELLO, IN, APRIL 11, 2008 – Home News Enterprises, LLC announced today that it has sold the Monticello (IN) Herald Journal and related publications to Illinois-based Community Media Group, Inc. Terms of the transaction were not disclosed.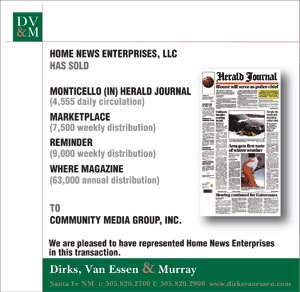 Dirks, Van Essen & Murray, a newspaper merger-and-acquisition firm based in Santa Fe, New Mexico, represented Home News Enterprises in the transaction.
Included in the sale are the 4,500-circulation daily Monticello (IN) Herald Journal and two weekly shoppers, with combined weekly controlled distribution of 16,500. In addition, the company publishes an annual tourist publication, Where Magazine, 63,000 copies of which are distributed each year.
"Home News Enterprises has had a great run with the Monticello Herald Journal for 26 years. However, with the momentous changes taking place in our industry, HNE ownership wants to focus on developing our cluster of newspapers and commercial printing around the Indianapolis and southern Indiana areas and redeploy capital to other venues," said Jeff Brown, president of the family-owned company.
"I believe the Community Media Group is a great fit as the new owner of the Herald Journal. They own several community newspapers in a contiguous area. Under CMG's leadership, this purchase will ultimately better serve the Herald Journal's readers and advertising customers," Brown added.
Community Media Group, based in West Frankfort, Illinois, owns dailies and non-dailies in Illinois, Indiana, Iowa, Michigan, New York and Pennsylvania.