Dow Jones Agrees to Sell Six Community Newspapers
Back to News
---
NEW YORK (Oct. 27, 2006) – Dow Jones & Company announced a definitive agreement to sell six of its community newspapers to Community Newspaper Holdings, Inc. for $282.5 million in cash, subject to a working capital adjustment.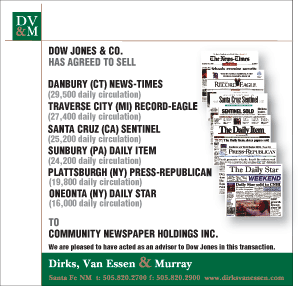 The company expects after-tax proceeds to be approximately $268.0 million, which will be used to fund the recently announced Factiva acquisition and to pay down debt. The papers are held by Dow Jones' newspaper subsidiary Ottaway Newspapers, Inc.
The six daily papers to be sold are: the 29,500-circulation Danbury (CT) News-Times, the 16,000-circulation Oneonta (NY) Daily Star, the 19,800-circulation Plattsburgh (NY) Press-Republican, the 25,200-circulation Santa Cruz (CA) Sentinel, the 24,200-circulation Sunbury (PA) Daily Item and the Traverse City (MI) Record-Eagle, with daily circulation of 27,400.
Dirks, Van Essen & Murray, a newspaper merger-and-acquisition firm based in Santa Fe, New Mexico, served as one of the financial advisors to Dow Jones in the transaction.
"This sale and the pending acquisition of Factiva are the latest examples of our commitment to transform Dow Jones from a company heavily dependent on print publishing revenue to a more diversified company capable of meeting the needs of its customers across all consumer and enterprise media channels, whether print, online, mobile or otherwise," said Rich Zannino, chief executive officer of Dow Jones.
After the transaction, Dow Jones' local media group will continue to publish eight daily and 15 weekly newspapers and their community Internet sites in seven U.S. states with combined daily print circulation of 282,000, Sunday print circulation of 316,000 and online average daily unique visitors of 119,000.
Community Newspaper Holdings (CNHI), headquartered in Birmingham, Alabama, is an independent privately owned company. It operates 90 daily newspapers and more than 200 non-daily publications in 21 states.