Gannett Foundation Sells Chronicle-Tribune in Marion, Indiana
Back to News
---
MARION, IN, JULY 2, 2007 – Paxton Media Group announced today that it had acquired the Marion, Indiana Chronicle-Tribune. In May, Gannett Co. Inc. announced it was donating the newspaper to the Gannett Foundation, which completed the sale.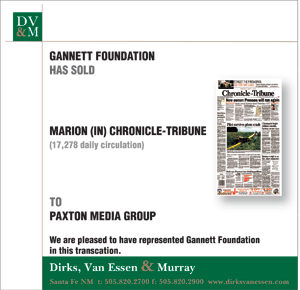 Dirks, Van Essen & Murray, a newspaper merger-and-acquisition firm based in Santa Fe, New Mexico, represented Gannett Foundation in the transaction.
Jay Frizzo, president of Paxton's newspaper division said, "We're very excited the Chronicle-Tribune is joining the Paxton family. We have always believed in local newspapers and local journalism, and that's what it's all about."
Frizzo also introduced the new publisher Neal Ronquisit, who had previously served as publisher of The Courier in Russellville, Arkansas. One of the immediate changes being made is the resumption of printing and business office functions at the operation. Both these functions are currently being performed at other Gannett newspaper sites in Indiana. No other personnel moves or changes were announced.
The Chronicle-Tribune is the 10th and largest Paxton newspaper in Indiana. The company is a closely held family-owned, 4th generation media company, founded in 1896 and based in Paducah, Kentucky. The company currently publishes a total of 32 daily newspapers – ten in Indiana, seven in North Carolina, four in Arkansas, three each in Georgia and Kentucky, and one each in Illinois, Louisiana, Michigan, Mississippi, and Tennessee. With The Herald-Press, combined daily circulation of the newspapers is approximately 350,000. The company also owns an NBC affiliated television station in Paducah, Kentucky, and publishes 14 paid weekly newspapers as well as more than 100 free distribution newspapers, shoppers, and specialized publications.