GateHouse Media Sells Arizona Silver Belt in Globe, Arizona to News Media Corporation
Back to News
---
GLOBE, AZ, May 5, 2008 – GateHouse Media Inc. announced Wednesday that it has sold the assets of the Arizona Silver Belt in Globe, Arizona along with its companion publications to News Media Corporation of New Rochelle, IL. Terms of the transaction were not disclosed.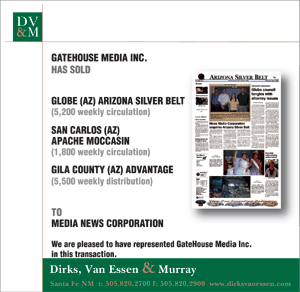 Dirks, Van Essen & Murray, a newspaper merger-and-acquisition firm in Santa Fe, New Mexico, represented GateHouse Media in the transaction.
Mike Reed, chief executive officer of GateHouse Media, commented, "While we are constantly evaluating investment opportunities in the local media sector and continue to have a very strong pipeline of future opportunities, we did not see the Arizona operation as a good strategic or geographic fit and felt we could redeploy the capital more effectively elsewhere. I am delighted to announce the sale of this excellent publication to News Media Corporation which owns other newspapers in Arizona."
"We are pleased at the opportunity to continue our company's growth in Arizona," NMC division manager Mark Davis said, "The Silver Belt made perfect sense strategically based on its proximity to our other newspapers in the Tucson area."
News Media Corporation is the parent company of more than 70 small and mid-sixe local daily and weekly newspapers throughout the country. NMC's holdings in Arizona include a group of weeklies in Tucson, a weekly publication in Page and now the Silver Belt, the Apache Moccasin and the Gila County Advantage.