GateHouse Media Sells Grand Island (NE) Independent and York (NE) News-Times to Omaha World-Herald Company
Back to News
---
GRAND ISLAND, NE, August 28, 2008 GateHouse Media Inc., announced today that it has sold the assets of The Grand Island (NE) Independent and York (NE) News-Times daily newspapers to the Omaha World-Herald Company. Also included in the transaction are the Grand Island-based Trade West Shopper and York-based Trade & Transactions companion publications. Terms of the transaction were not disclosed.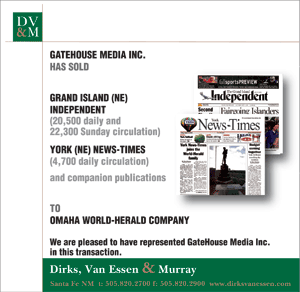 Dirks, Van Essen & Murray, a newspaper merger-and-acquisition firm in Santa Fe, New Mexico, represented GateHouse Media in the transaction.
Mike Reed, Chief Executive Officer of GateHouse Media, commented, "While we are constantly evaluating investment opportunities in the local media sector and continue to have a very strong pipeline of future opportunities, we did not see the Grand Island operation as a good strategic or geographic fit and felt we could redeploy the capital more effectively elsewhere. I am delighted to announce the sale of these publications to the Omaha World-Herald Company which has a significant and venerable presence in Nebraska."
"We are so pleased to have the opportunity to own these two newspapers, both of which have done such an outstanding job of serving their markets," said Terry Kroeger, president and CEO of the Omaha World-Herald Co. "We look forward to working with Don Smith, the publisher in Grand Island, and Greg Awtry, the publisher in York, toward continuing to build these news and advertising content franchises into the future."
GateHouse Media, headquartered in Fairport, New York, is one of the largest publishers of locally based print and online media in the United States as measured by its nearly 100 daily publications. The public company is traded on the New York Stock Exchange under the symbol GHS.
The Omaha World-Herald Company is a diversified, employee-owned company with the Omaha (Neb.) World-Herald as its flagship. The World-Herald is Nebraska's largest newspaper, with more than 500,000 daily readers throughout Nebraska and western Iowa.The newspaper has been employee-owned since 1979, and is the largest employee-owned daily in the United States.