GateHouse Media Sells Huntington (WV) Herald-Dispatch
Back to News
---
HUNTINGTON, WV, JUNE 28, 2007 – GateHouse Media Inc., announced today that it has signed a definitive asset purchase agreement to sell The Herald-Dispatch and related publications, which are located in Huntington, West Virginia, to Champion Industries, Inc. for $77 million. The transaction is expected to close next quarter.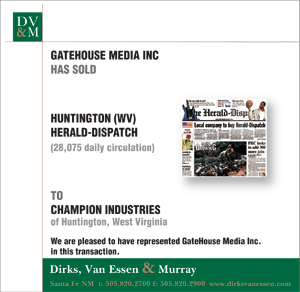 Dirks, Van Essen & Murray, a newspaper merger-and-acquisition firm in Santa Fe, New Mexico, represented GateHouse Media in the transaction.
Mike Reed, Chief Executive Officer of GateHouse Media, commented, "While we are constantly evaluating investment opportunities in the local media sector and continue to have a very strong pipeline of future opportunities, we did not see the Herald-Dispatch as a good strategic or geographic fit and felt we could redeploy the capital more effectively elsewhere. It was always our intention when we recently acquired several properties from Gannett to dispose of the Huntington Herald-Dispatch, and I am delighted to announce the sale of this venerable publication to Champion Industries, a company with a strong presence and history in the local market."
Champion Industries is a major commercial printer, business form manufacturer, and supplier of office supplies and office furniture, headquartered in Huntington, West Virginia. The company is publicly owned and traded on the NASDAQ under the symbol CHMP. It had $120 million in revenue prior to the acquisition of the Huntington Herald-Dispatch, which is the first newspaper the company has owned. In addition to the 28,000-circulation, Herald-Dispatch, the company has 23 separate operations throughout nine states.