GateHouse Media Sells Winter Haven (FL) News Chief
Back to News
---
WINTER HAVEN, FL, March 4, 2008 – The Lakeland (FL) Ledger announced today that it has purchased The Winter Haven (FL) News Chief, along with the Polk County Shopper and polkonline.com, from GateHouse Media. Terms of the transaction were not disclosed.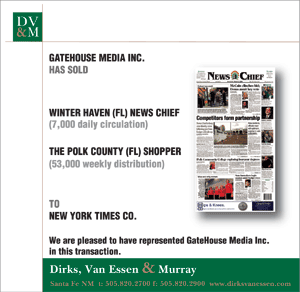 Dirks, Van Essen & Murray, a newspaper merger-and-acquisition firm in Santa Fe, New Mexico, represented GateHouse Media in the transaction.
"We are deepening our commitment to East Polk," said Jerome Ferson, publisher of the Ledger. "The News Chief has a rich history of serving the information needs of the greater Winter Haven community. I am absolutely thrilled we are able to preserve the News Chief banner and pleased to carry it forward as a separate news-gathering and editorial voice for the community."
The News Chief will move its operations to the Ledger's Winter Haven office, but will continue to operate as a separate paper with a separate staff. The Ledger will cut its East Polk section as a result of the purchase.
GateHouse Media, based in Fairport, NY owns and operates 101 daily newspapers and hundreds of non-daily publications in 23 states.
The Lakeland (FL) Ledger is owned by the New York Times Company.