GateHouse Media Sells Yankton (SD) Daily Press & Dakotan and Companion Papers to Local Owners
Back to News
---
YANKTON, SD, February 29, 2008 – GateHouse Media Inc., announced today that it has sold the assets of the Daily Press & Dakotan in Yankton, SD along with Vermillion Plain Talk and three other weekly controlled distribution publications to Yankton Media, Inc., a locally-owned group headed by publisher Gary L. Wood. Wood's partners in the transaction are Robb Hicks and Gary Stevenson of Buffalo and Sheridan, Wyoming respectively. Terms of the transaction were not disclosed.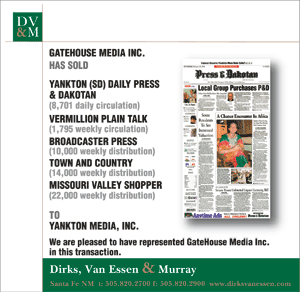 Dirks, Van Essen & Murray, a newspaper merger-and-acquisition firm in Santa Fe, New Mexico, represented GateHouse Media in the transaction.
Mike Reed, Chief Executive Officer of GateHouse Media, commented, "While we are constantly evaluating investment opportunities in the local media sector and continue to have a very strong pipeline of future opportunities, we did not see the Yankton operation as a good strategic or geographic fit and felt we could redeploy the capital more effectively elsewhere. It was always our intention when we recently acquired several properties from Morris Communications to dispose of the Yankton operation, and I am delighted to announce the sale of this venerable publication to a group of local owners."
"This is an excellent acquisition opportunity for Yankton Media," said Yankton Media Vice President Gary Stevenson. "These are strong community news outlets."
The Yankton Daily Press and Dakotan will continue under the helm of current publisher and now part-owner Gary Wood. "I am extremely pleased to join the ownership team of Yankton Media, and after nearly 30 years of corporate ownership to bring back local ownership of the Daily Press and Dakotan," Yankton Media president Wood said.
"We are excited by the opportunity to continue a long legacy of community journalism in Yankton and Clay Counties," said Yankton Media secretary Robb Hicks. "Our readers can expect in-depth, local coverage of the news that affects their lives."