Harris Enterprises, Inc. Sells Two Kansas Dailies to Family Media, Inc.
Back to News
---
HUTCHINSON, KAN. March 4, 2008 – Harris Enterprises, Inc. announced today that it has sold the Parsons (Kan.) Sun and Chanute (Kan.) Tribune to Family Media, Inc. Terms of the transaction were not disclosed.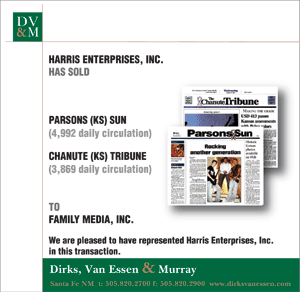 Dirks, Van Essen & Murray, a newspaper merger-and-acquisition firm based in Santa Fe, New Mexico, represented Harris Enterprises, Inc. in the transaction.
Hutchinson-based Harris Enterprises, Inc. has owned the Chanute Tribune since 1927. It was the second newspaper in the Harris group. The Tribune publishes Tuesday through Friday afternoons and Saturday morning. Harris bought the Parsons Sun in 1982 from the late Clyde Reed and other stockholders. The Sun publishes Monday through Friday afternoon and Saturday morning. Combined paid circulation is approximately 8,900.
"We have always been heavily invested in newspapers, and will continue to be," Bruce Buchanan, president of Harris, said. "However, we will use the proceeds of this sale to diversify our interests."
Harris Enterprises, Inc. also owns the daily Hutchinson (Kan.) News, five other newspapers in Kansas and Iowa, two shopper publications and a marketing company.
Family Media, Inc., based in Miami, Okla., owns non-dailies in Mississippi, Illinois and Florida as well as two newspaper trade magazines and a television station.
"Our company is excited to be a part of the communities served by the Sun and Tribune," Jerry R. Turner, president of Family Media, said. "We will bring to these products our weekly newspaper focus of being very local – a brand of journalism we refer to as 'refrigerator news' – that of which families clip and stick on their refrigerators."
Turner has more than 27 years of newspaper experience including that of editor, advertising director and publisher of weekly and daily newspapers. He started Family Media in 1996 and has owned daily, weekly and specialty publications in nine states.