Huntington (IN) Herald-Press Sold to Paxton Media Group
Back to News
---
HUNTINGTON, IN, APRIL 16, 2007 – The Quayle family announced today the sale of the Huntington (IN) Herald-Press to Paxton Media Group, based in Paducah, Kentucky. Terms of the transaction were not disclosed.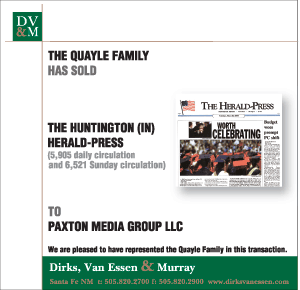 Dirks, Van Essen & Murray, a newspaper merger-and-acquisition firm based in Santa Fe, New Mexico, represented the Quayle family in the transaction.
The Herald-Press has weekday circulation of 5,905 and Sunday circulation of 6,521. The operation has been under Quayle family ownership since the early 1960s.
"This is a bittersweet time," said Michael E. Quayle, president of Huntington Newspapers, Inc. "Our family has been associated with The Herald-Press since the early 1930s. It has meant and will always mean a great deal to all of us. These are challenging days for this business, though, and we believe now is the time to turn The Herald-Press over to an organization that will build on the foundation of responsibility, integrity and service that has been established at The Herald-Press. Paxton Media Group knows community journalism. It is well represented in Indiana. We believe Paxton will be good for Huntington County and vice versa. We are confident we have placed The Herald-Press in good hands."
David Paxton, President and CEO of Paxton Media Group, said, "We are very pleased to welcome the employees of The Herald-Press to our family of newspapers. The Herald-Press becomes our 30th daily newspaper, and is an exceptionally good fit with our existing newspapers in Indiana. Together, we believe we will be able to offer even better service to our readers and advertisers, and more opportunities to our employees. We look forward to building on the record of public service established during many years of ownership by the Quayle family."
Paxton Media Group is a fourth generation, family-owned media company, founded in 1896 and based in Kentucky. The company currently publishes a total of 29 daily newspapers – eight in Indiana, seven in North Carolina, four in Arkansas, three each in Georgia and Kentucky, and one each in Louisiana, Michigan, Mississippi, and Tennessee. With The Herald-Press, combined daily circulation of the newspapers is approximately 350,000. The company also owns an NBC affiliated television station in Paducah, Kentucky, and publishes 14 paid weekly newspapers as well as more than 100 free distribution newspapers, shoppers, and specialized publications.