Journal Community Publishing Group Agrees to Sell Its Central Ohio Advertiser Network and Advantage Press to Gannett Co.
Back to News
---
MILWAUKEE, WI, JUNE 19, 2007 – Journal Community Publishing Group Inc. (JCPG), a Journal Communications Inc. company, announced today that it has signed a definitive agreement to sell its publishing and printing assets in Ohio to Gannett Co. Inc. The parties anticipate closing the transaction as quickly as possible. Terms of the transaction were not disclosed.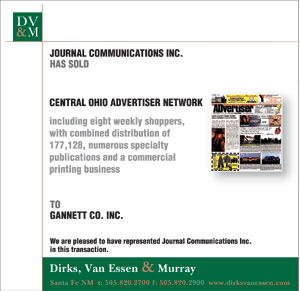 Under the agreement, Gannett Co. Inc. will acquire JCPG's Central Ohio Advertiser Network – consisting of eight weekly shoppers and numerous specialty print products – and its commercial printing business, Advantage Press.
On June 13, JCPG announced it had agreed to sell its Louisiana-based publishing business to a Target Media Partners affiliate, and on June 19, the company announced it had agreed to sell its publishing and printing assets in Connecticut and Vermont to Hersam Acorn Community Publishing. In aggregate, the sales price for the assets of the New England, Ohio and Louisiana clusters approximates $30 million, subject to certain working capital adjustments.
Dirks, Van Essen & Murray, a newspaper merger-and-acquisition firm based in Santa Fe, New Mexico, represented Journal Communications Inc. in the transactions.
"With the planned divestiture of our New England- and Ohio-based publishing and printing operations, as well as the recently announced pending sale of our Louisiana publishing business, Journal Community Publishing Group is now strategically positioned to turn its focus to deepening our media offerings in our vital Wisconsin and Florida markets," said Elizabeth (Betsy) Brenner, president and chief operating officer of Journal Communications' publishing group.
David Honan, vice president, general manager and chief financial officer of Journal Community Publishing Group, added, "Our Ohio employees have dedicated many years of service to our organization, and we thank them for their hard work and commitment to producing high-quality products for all of our customers."
Gannett Co. Inc. is a leading international news and information company that publishes 85 daily newspapers in the U.S., including USA TODAY, the nation's largest-selling daily newspaper.
Journal Communications Inc., founded in 1882 and headquartered in Milwaukee, Wisconsin, is a diversified media company with operations in publishing, radio and television broadcasting, interactive media and printing services. The company publishes the Milwaukee Journal Sentinel and 75 community newspapers and shoppers in eight states. It owns and operates 35 radio stations and 10 television stations in 12 states. Its interactive assets include more than 75 online enterprises associated with its daily and community newspapers, television and radio stations.