Journal Register Company Agrees to Sell Rhode Island Newspapers
Back to News
---
YARDLEY, PA, JANUARY 26, 2007 – Journal Register Company today announced that it has signed a definitive agreement to sell its three daily community newspapers and its weekly newspaper group in Rhode Island to R.I.S.N. Operations Inc. for $7.6 million in cash, subject to working capital adjustments. The transaction is expected to close in the first quarter of 2007 and is subject to customary closing conditions.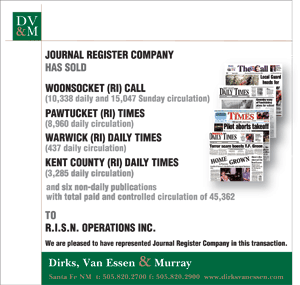 Dirks, Van Essen & Murray, a newspaper merger-and-acquisition firm based in Santa Fe, New Mexico, represented Journal Register Company in the transaction.
The properties included in the sale are The Call, The Times and Kent County Daily Times in Woonsocket, Pawtucket and West Warwick, Rhode Island, respectively, and its weekly group, the Southern Rhode Island Newspaper Group, in Wakefield, Rhode Island.
Robert M. Jelenic, chairman and CEO of Journal Register Company said, "We thank all of our talented employees at our Rhode Island newspapers for their contributions over the years and wish them all well."
Journal Register Company owns 27 daily newspapers and 368 non-daily publications, strategically clustered in seven geographic areas.