Macquarie Media Group — Acquisition of American Consolidated Media
Back to News
---
SYDNEY, AUSTRALIA, JANUARY 24, 2007 – Macquarie Media Group (MMG) today announced that it has entered into an agreement to acquire 100% of American Consolidated Media, Inc. and 100% of Valley Newspapers Holdings, LP (collectively, ACM), a publisher of 40 local newspapers which serve all or significant portions of nine regional communities in Texas and Oklahoma, United States. The acquisition has an enterprise value of A$102 (US$80) million and is subject to regulatory approval and other customary closing conditions.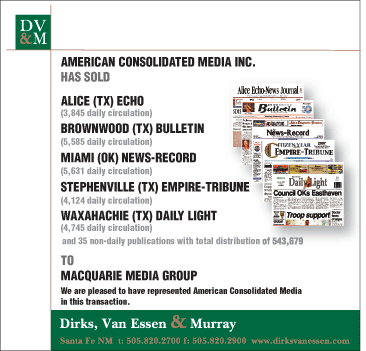 Dirks, Van Essen & Murray, a newspaper merger-and-acquisition firm based in Santa Fe, New Mexico, acted as the financial advisor to American Consolidated Media, Inc. in the transaction.
MMG managing director, Alex Harvey, said, "ACM is a very attractive investment for MMG as it meets our key investment criteria. It provides essential local news and information to the communities in which it operates, some of which are among the fastest growing regions of the US, has strong positions and long established histories in those communities and generates stable cash flows from a large diverse base of local advertisers.
"The acquisition is part of a broader strategy to acquire and grow a portfolio of community newspaper businesses in the United States. We have identified community newspapers as an asset class which meets our investment criteria, generating stable cash flows from predominantly local advertisers, with low dependence on circulation and classified advertising, limited capex requirements and potential for earnings improvement through organic growth and consolidation."
ACM's publications are the key local advertising medium in their communities. Of ACM's 40 local publications, five are daily newspapers, 19 are weekly newspapers, and 16 are "shopper" and specialty publications and associated websites. ACM's publications provide blanket coverage of eight regions across Texas and one region of Oklahoma, many of which demonstrate above-average income growth driven by population growth or regional economic factors. ACM generates almost all its advertising revenue from local advertising and has achieved efficiencies by centralizing the majority of its printing and many of the back office support functions at its daily newspaper operations.
The purchase price and associated transaction costs will be funded by MMG with the proceeds of the refinance of Macquarie Regional Radioworks and the issue of MMG securities to a number of ACM's existing investors.
"We are attracted to ACM and the community newspaper sector more generally as its business model is predominantly driven by its integral position in its local communities. ACM is a key and long-standing member of its communities and provides the essential function of news provision and advertising services to its local populus, including businesses. We think this critical role makes it difficult to erode ACM's position," Mr. Harvey said.
"These newspapers are often the key media outlet for hyper-local news in communities which have strong local identities and governmental autonomy, and are well placed to capitalize on the online opportunity. We believe there is opportunity to generate significant operating efficiencies through a consolidation of these businesses led by professional and experienced management. The opportunity has many parallels to the strategy MMG successfully implemented in the regional radio market in Australia.
"ACM founder and Chief Executive Officer Jeremy Halbreich has over 30 years experience managing newspaper businesses, including 12 years as the President and/or General Manager of The Dallas Morning News. His team has successfully grown ACM by acquiring and developing community newspaper businesses and they will continue in their current roles following completion of the acquisition and will drive any future consolidation activity."
MMG Executive Chairman, Tim Hughes said, "The acquisition of ACM provides diversification to MMG stapled security holders' distributions by providing exposure to stable cash flows generated from community newspaper advertising in some of the fastest growing regions of the United States."
"The entire ACM management team eagerly looks forward to our new affiliation with MMG as we execute continued growth and expansion of our local community newspaper platform," said Mr. Halbreich, Chairman of the Board, President and CEO of ACM. "ACM and MMG share the same mission, values and operating philosophies and we believe the MMG strategy for media businesses represents the best and most attractive model for shareholder investors, employees, customers and prospective acquisition targets alike," he added.
Financial settlement of the acquisition is expected to occur in early February 2007, being subject to a number of conditions, including regulatory approvals.
ACM was acquired from a shareholder group including Halyard Capital and Arena Capital Partners, New York-based private equity funds, and BancBoston Ventures, a Boston-based private equity fund.
Refinance of Macquarie Regional Radioworks
MMG's investment in ACM will primarily be funded via a drawdown under a senior term loan secured against Macquarie Regional Radioworks. In December 2006, Macquarie Regional Radioworks entered into agreements to refinance its existing debt facilities with an A$310 million senior term loan and an A$18 million working capital facility. Approximately A$200 million has been drawn under the senior term loan to refinance existing debt including the bridge facility used for MMG's acquisition of its 13.8% interest in Southern Cross Broadcasting. The remainder of the senior term loan will be drawn to find MMG's acquisition of ACM and other acquisitions that may be identified in the future.
About Macquarie Media Group
MMG is an investment vehicle listed on the Australian Stock Exchange with the objective of acquiring, owning and managing a portfolio of media businesses globally with strong market positions, stable earnings and potential for growth. MMG is a longer-term investor which is committed to supporting and enhancing the ongoing growth and success of its portfolio companies by combining strong management expertise from quality media operators with the Macquarie Group's strategic guidance, global resources and deal origination and execution expertise. Managed by the Macquarie Group, MMG currently has a market capitalization of approximately A$980 (US$770) million.
MMG currently owns a 100% interest in Macquarie Regional Radioworks, owner and operator of the largest commercial radio portfolio in Australia by number of licenses, reaching over 60% of the population outside the mainland capital cities; a 60% interest in Taiwan Broadband Communications, one of three leading cable television broadcasters in Taiwan, providing basic and digital television, broadband internet and telephony services to over 650,000 subscribers in five franchise areas; and a 13.8% interest in Southern Cross Broadcasting.
—-
For further information please contact Clare Battelino at Macquarie Media Group, Sydney, Australia (phone) 61 2 8232 8059, (email) clare.battelino@macquarie.com, or Owen Van Essen at Dirks, Van Essen & Murray, (phone) 505-820-2700, (fax) 505-820-2900.