---
HARTSVILLE, SC, March 21, 2008 – Media General has agreed to purchase The Messenger newspaper in Hartsville from OPC News LLC. OPC News is associated with Osteen Publishing Co. of Sumter, publisher of The Item, an independently-owned daily newspaper. The acquisition is expected to be final March 31. Terms of the transaction were not disclosed.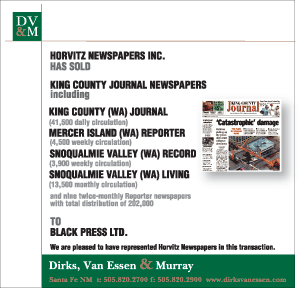 Dirks, Van Essen & Murray, a newspaper merger-and-acquisition firm in Santa Fe, New Mexico, represented the Osteen family in the transaction.
The Messenger becomes part of Media General's Carolina Publishing Group, which includes the Florence Morning News, three weeklies – the Star & Enterprise in Marion and Mullins, The (Hemingway) Weekly Observer and the Lake City News & Post – and scnow.com, a regional Web site serving northeastern South Carolina and southeastern North Carolina.
The Messenger publishes every Wednesday and Friday, with paid circulation of approximately 6,000. It also produces Pulse, a Monday non-subscriber publication that reaches 12,000 homes in Darlington County. The enterprise also includes two Web sites, hartsvillemessenger.com and hartsvilletoday.com.
"Since 1893, The Messenger has a 115-year history of in-depth local news coverage, exceptional service to its readers and advertisers and uncompromising community support in Hartsville, its surrounding communities and Darlington County," said Mark Laskowski, regional publisher of Carolina Publishing Group. "We are delighted to welcome The Messenger and its employees to our media family as we expand our commitment to Hartsville and the Greater Pee Dee region."
"Media General is a great company and The Messenger will fit in nicely with their multimedia approach to news coverage throughout this region," said Graham Osteen, co-president of Osteen Publishing and The Messenger's editor and publisher since 1997. "The Messenger staff has always worked hard for the community and we've all tried to be good stewards of the paper. Media General will be able to build on that legacy in the countless ways that a large, diverse media company can, and that's ultimately good for Hartsville."
Osteen Publishing Co. purchased The Messenger in 1995 from the late Joe Wiggins of Hartsville.
Media General also owns WBTW News13, the CBS television station serving the Florence – Myrtle Beach market. Media General is an independent, publicly owned communications company situated primarily in the Southeast with interests in newspapers, television stations and interactive media.