Sun News Sells Its Idaho and Utah Newspapers to Pioneer Newspapers
Back to News
---
MARYSVILLE, WA, OCTOBER 3, 2007 – Sun News, owned by Bob and Debra Marshall and Kris and Catherine Passey, announced today that the company has agreed to sell all of its newspaper holdings in Idaho and Utah to Pioneer Newspapers Inc. Terms of the transaction were not disclosed.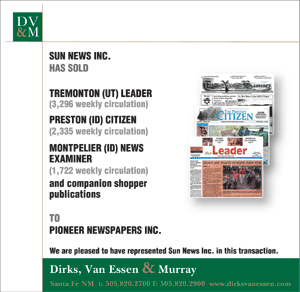 Dirks, Van Essen & Murray, a newspaper merger-and-acquisition firm in Santa Fe, New Mexico, represented Sun News in the transaction.
The sale includes six weekly newspapers and companion shoppers. The weeklies are the Tremonton (UT) Leader, the Preston (ID) Citizen and the Montpelier (ID) News Examiner. Total paid circulation for the three weeklies is 7,353. In addition, four seasonal specialty publications are included in the sale.
The newspapers serve three communities in the intermountain region at the base of the Wasatch Mountains in northern Utah and southeastern Idaho. Two of the newspapers have been published for over 100 years, the third since 1914, and all have received numerous awards for newspaper excellence.
The Sun News acquisition is strategically located between and will strongly complement Pioneer's existing newspapers in Logan, Utah, Pocatello, Idaho and Rexburg, Idaho.
Pioneer Newspapers is a family media business owned by members of the Scripps'/Wood family. The company owns seven daily newspapers in Oregon, Montana, Washington and Idaho; weekly newspapers in Oregon, Montana and Idaho, and one shopper publication in Oregon. The company also operates a state-of-the-art printing facility, Bear River Publishing, in Preston, Idaho.