Sun News Sells Washington Newspapers to Sound Publishing
Back to News
---
MARYSVILLE, WA, AUGUST 10, 2007 – Sun News, Inc., owned by Bob and Debra Marshall and Kris and Catherine Passey, announced today that the company has agreed to sell two established weekly community newspapers, a regional shopper and two monthly business publications to Sound Publishing, Inc. Terms of the transaction were not disclosed.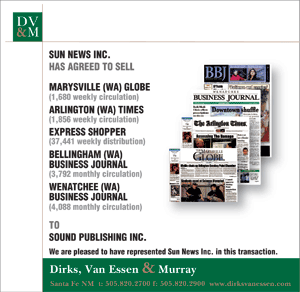 Dirks, Van Essen & Murray, a newspaper merger-and-acquisition firm in Santa Fe, New Mexico, represented Sun News in the transaction.
The weekly Marysville Globe, circulation 1,680, and Arlington Times, circulation 1,856, are two of the oldest community newspapers in Washington State. Both have been published since the 1890s and have received numerous awards for newspaper excellence. The Globe, Times, and regional Express Shopper circulate throughout the Marysville and Arlington regions north of Everett.
The monthly Wenatchee Business Journal and Bellingham Business Journal serve their respective cities and Chelan and Whatcom counties with business news and are the recipients of several Society of Professional Journalist awards.
Sound Publishing president Manfred Tempelmayr said that the new acquisitions strengthen the company's position in the Western Washington region.
Sound Publishing is the largest publisher of community newspapers and shoppers in the Pacific Northwest, with publishing interests throughout Western Washington and Oregon. The company operates newspapers and business publications in the San Juan Islands, Whidbey Island, Kitsap County, Vashon Island and Tacoma and recently acquired, through its subsidiary King County Publications, the Reporter newspaper group in King County. Sound also publishes the Little Nickel and Nickel Ads classified products in both Washington and Oregon. Sound reports that it owns more than 50 publications in the region with a weekly circulation of 850,000.